Oh hai again.
So I really wish I could tell you that I've been wandering to glorious places all week and have done wonderful things, but truthfully I've just been straight chillin'.
I finished my intensive course this week… WHEW. What a relief. It was like all the years I've ever had Spanish rolled into a two-week course. Rough. Although, good news – I didn't fail the first test (yippee) and am currently hoping I didn't fail the second one. Nevertheless, my actual university class starts soon! And by soon, I mean tomorrow. It's like entering college again as a freshman – all the first day of school jitters and being stressed about what to wear and whether or not all the Spanish peeps will like me. OY. Also, found out this joyous bit of news – all of my classes factor back into my GPA… hmmm. Truthfully speaking though, it shouldn't be that big of a deal. Plenty of people go abroad and come back with 4.0 semesters so I can only hope that'll be me.
Well, one interesting thing I did this weekend was going out on a couple of catamaran cruises! That's right people – multiple, glorious boat rides. We went on a huge program cruise on Friday and just chilled on da boat and took a little dip. But today, we went on a snorkeling excursion. Sounds fancy, eh? The weather was beautiful and perfect today (like it is everyday). Unfortunately, I'm feeling a tad crispy – which usually doesn't happen because I'm all Asian and junk but the sun was supa intense today. Also, mi madre has commented on the awesome sunglasses tan I'm workin'. Lookin' supa noms right now.
OH! GEEZ, how could I forget?! I have trips booked! Okay, so we have a bunch of trips already booked through the program. This coming weekend we're going on a tour of the province (I think a waterfall is involved – psyched!) and Granada, Murcia, and Valencia are in my near future. But I booked a couple non-program trips wif some awesome chicas. In early November, my butt is going to be riding on a camel on a beach in Tangiers, Morocco. DREAM COME TRUE GUYZ. Also, it makes me one step closer to accomplishing my goal of traveling to all da continents. North America, Asia, Europe, and soon AFRICA. Additionally, I'm in the process of planning a cruise to… wait for it… GREECE! (Basically the motherland of a particular bushy-browed friend of mine). A couple of people and I are booking it for SURE tomorrow and I am supa excited.
Other than that, I've just been raging a little here and there and hanging out wif my family, who have been wonderfulll. It's like they knew I was craving American food today (I know, too soon) so they made me freshly fried French fries. Like, cut up potato chunks stuck into a frying pan. SO NOMS. Additionally, might have scared them to death this weekend… at least I now know that a deadly combination of cheap alcohol will do wonderfully cleansing things to your body and chamomile tea will soothe a troubled stomach. HA.
Lastly, Skyping wif my wonderful amigas back home makes me Wofford-sick and makes me realize how weird I can get with y'all and not be shunned (I don't think my program peeps are ready for that quite yet). Y'all better hold it down for the seniors and party hardy till I get back! AH! And congratulations on a SICKKK 82-0 win this weekend, football! Soccer also went 2-0 in their games this weekend. Such an awesome weekend for Woff Athletics!
Hokay. Well, time to chill wif da fam some more and get to bed to be ready for my FIRST CLASE MAÑANA!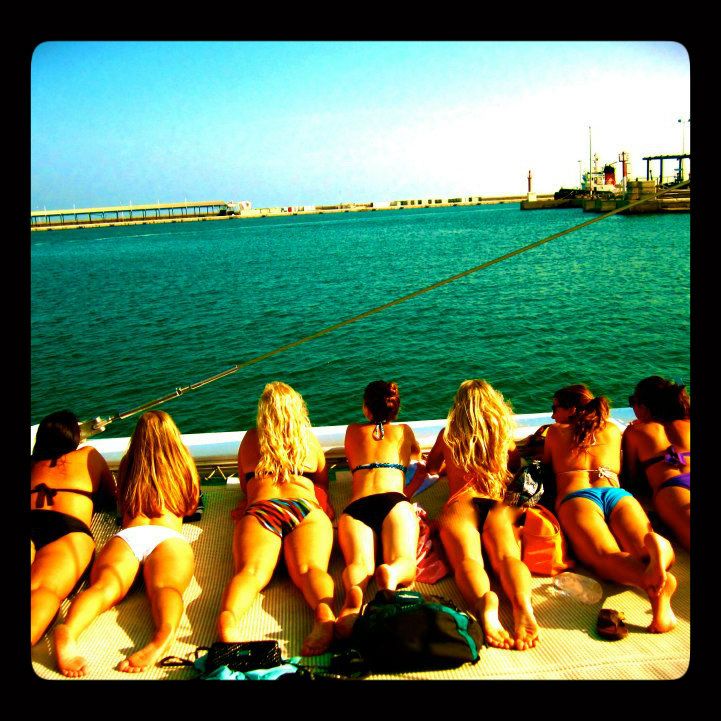 Random pictures from da catamaran cruise! Threw in one of Sarah from Formal because A) Elis finally posted those dang pictures and B) I mees Sawah. Tee hee.
XO, Julie